About Clearfield Alliance Church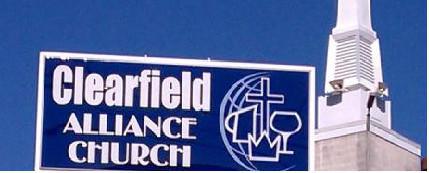 ---
Welcome to
Clearfield Alliance Church
---
Services Times:
Sunday
Morning Light Worship Service 9:15 am
Sunday School 9:45 am
Morning Worship Service 10:45 am
Alliance Women 5:00 pm
Sunday Evening Service 6:00 pm
Wednesday
Bible Study and Prayer Meeting 7:00 pm
Youth Group 6:30 - 8:00 pm
---
Who We Are:
The Promise of Hope There is no question but that we live in a world that sometimes seems pretty hopeless, but that is why Jesus came to die on the cross. Through Jesus Christ we have hope. The Presence of Joy It is our goal that the Presence of God in every worship service. Our prayer is that you too will experience the real Joy that comes from God's Holy Spirit. A Place to Belong That's the way we're made. Not to be isolated. Not to be alone. But to be together experiencing life with others. At CAC we're building a community that's got a place for you.
The Power to Heal Make no mistake about it, it is God that does the healing. We pray, we anoint, we believe, God heals. And healing is so much more than just physical. God heals marriages. He heals families. He heals us body, soul, heart and mind. God is our healer Clearfield Alliance Church What We Do Connect People to God Sounds so basic, but it really is our first mission.
We were made to be connected to God. But sin and pride get in the way. At CAC we are people who have battled the same battles you are. We have fought the same fights. But we have experienced the wonderful forgiving power of Jesus and His blood. Connect People to God's Word Is there anything more wonderful than the reality that God has given us His word? At CAC the preaching and teaching are all based in God's Word. It is life-changing. It is truth and the truth does set you free. Connect People to God's People Regular people become God's people by finding forgiveness through Jesus Christ. They are not perfect; they have not arrived. They are learning to walk with God one day at a time. Jump in and find out for yourself.
Connect People to God's Mission Jesus came to seek and to save the lost. He then entrusted the church with that same mission. We love people and it is our desire to see all people connect with God. Clearfield Alliance Church Where We Are Going UP to God in Worship. Is there anything more uplifting, refreshing and encouraging than a great time of worshiping the True and Living God? At CAC we put a lot of time and effort in to providing a great worship service. Whether you enjoy the contemporary style of the Morning Light Worship Service or the more traditional hymn singing of the 10:45am or Sunday Evening Worship service, we offer a worship service for you. IN through Fellowship and Discipleship. Come in!
Come in to our many options for Bible Study and fellowship. There are lots of opportunities for you and your family to grow, make friends and find a place to belong. At CAC we're glad you're here and want you to feel welcome. OUT in Evangelism and Missions. Reaching our community and the world with the love of Jesus is a primary mission here at CAC. Join in and be a part of something wonderful! Clearfield Alliance Church Why We Do (what we do)
Lost people matter to God. He wants them found. (Luke 19:10) • Prayer is the primary work of God's people. (Phil. 4:6-7)

Everything we have belongs to God. We are only stewards. (1 Chron. 29:14) • Knowing and obeying God's Word is fundamental to all true success. (Josh. 1:8)

Completing the Great Commission will require the mobilization of every fully devoted disciple. (Matt. 28:19)

Without the Holy Spirit's empowerment, we can accomplish nothing. (1 Cor. 2:4-5) • God's Work is done by Teams. He Calls Us Into His Body. (1 Cor. 3:6-9)

Achieving God's purposes involves taking faith-filled risk.
This always involves change. (Heb. 11:6) Clearfield Alliance Church How to Belong at CAC We know sometime is can be hard getting connected in a new church. We want to make that as easy as possible. You've already made the first step… showing up. Hopefully you felt welcomed and could relax and connect with God in the Worship Service. Now it is time to make some connections. There are lots of ways to do that; Sunday School, the Wednesday Night Prayer Meeting and Bible Study and our once a month He Brews Café. CAC is a great place to make friends and find people, just like you, who are living life and following Jesus. Once you have PLUGED IN and made some CONNECTION you will find that you BELONG to a wonderful community. Don't be afraid to asked questions and explore. There's a lot going on at CAC. Be part of it.